Botanical illustration, develop your skills: 4-session course
Starting Tuesday 13 June 2017
***** This event has now finished *****
A botanical illustration course suitable for improvers who have completed Leigh Ann's beginners course at the Garden House in Feb/March,  or have some experience of botanical watercolour illustration.
Working with specimens from the garden, create accurate botanical studies with guidance from professional botanical art tutor Leigh Ann Gale. The focus will be on accurate observation, composition, perspective and basic botany.
You will be able to  develop your skills and technique using watercolour painting, pen and ink and colour pencils.
You will need to provide your own cartridge paper and pencils (2H or H) for drawing, and watercolours and brushes for painting. You will also need some hot-pressed paper for painting however, this may also be purchased from Leigh Ann at a small additional cost (usually 50p – £1 depending on size). You may prefer to bring ink pens and/or coloured pencils with you instead or as well as paints. Please also bring tracing paper if you have it.
Leigh Ann Gale trained at The English Gardening School, Chelsea Physic Garden, and since graduating in 2004 has become a Fellow of the Hampton Court Palace Florilegium Society and an RHS medallist. Her work is featured in The Hunt Institute for Botanical Documentation, Pittsburgh, USA and included in many private collections both in the UK and abroad. As well as painting, Leigh Ann now teaches botanical art throughout Sussex, Surrey and south east London.
For more information visit www.la-botanicalart.co.uk
4-session course, TUESDAY AFTERNOONS: 1.30pm – 4.30pm
Cost:  £160 – to include tea and cake.
BOOK ONLINE NOW.  If you are unable to pay online, please contact us to find out about alternative ways of paying.
Dates: 13, 20 and 27 June, then 11 July 2017
Location: The Garden House, 5 Warleigh Road, Brighton BN1 4NT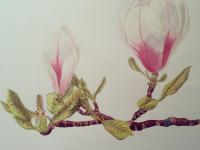 Contact us for more information »