Botany for Gardeners: 4-session course
Starts Thursday 27 Sept 2018
***** This event has now finished *****
Four-week course of practical studies comprising 4x 3hour sessions. It will involve an introduction to some simple microscopic and biochemical techniques to investigate the structure of plants and to relate this to the way in which plants work. No previous knowledge of microscopy is necessary. We will use local materials from the garden and you may wish to further your own interests by investigating plant materials of your own choice.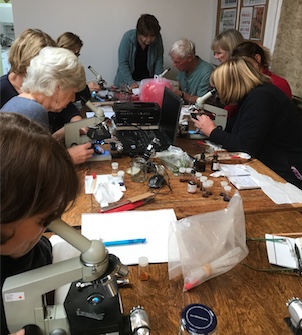 The course will be a thoroughly enjoyable opportunity to develop your own interests and share your findings within the group.
Course Leader: Jim Weaver, BSc (Biological sciences), MSc, Cert. Education
WEEK 1 – Microscopes, General plant structure and Stems
* Introductions/ Safe working practices/ Advice for suitable clothing (apron or old clothing as we are using stains) /Domestic arrangements.
*Using a microscope to get best results.
*Practical discussion of plant verses animal cells with microscopic demonstrations using cheek cell / onion epidermis and rhubarb epidermis. Osmosis and how it affects plant cells.
*General Classification of plants.
*Parts of a plant.
*Monocot vs Dicot plan of organisation.
*Meristematic cells and their location in plants.
*Details of the Dicot stem.
*Secondary thickening in Dicots and formation of annual rings.
*Practical section cutting /staining and microscopic examination of plant stems.
*Practical examination of water uptake by Xylem vessels using stained water.
WEEK 2 – Leaves
*Leaves and their importance to plants.
*Dicot vs Monocot plan of leaf anatomy.
*Photosynthesis / Chloroplasts and chlorophyll.
*Practical extraction of chlorophyll from plant material and examination
of the pigments making up chlorophyll by paper chromatography.
*Practical section cutting of leaves and microscopic examination of leaf anatomy.
*Practical microscopic examination of chloroplasts from pond algae and Elodea (pondweed).
*Practical investigation of leaf stomatal distribution using acetate peels.
WEEK 3 – Roots
* Discussion of the organisation of Dicot and Monocot roots.
*Practical continuation of stem /root sectioning comparing Monocot stems with Dicots.
* Practical onion root tip squashes /staining and examination of the vascular elements of roots
*The importance of root hairs and osmosis in the uptake of water by plants.
WEEK 4 – Flowers
* Discussion of the function of flowers
* VS Generalised flower to demonstrate flower structure
* Practical observation of the structure of the gynaecium and androecium photographic recordings of these structures (smart phones would be useful here)
* Pollen, its role in fertilization and observations of the sculpting patterns on pollen grain surfaces.
* The flowering plant life cycle.
*Practical VS sections of flowers of your choice, identification of floral parts and photographic recording of your findings. (smart phones)
* Practical microscopic examination of pollen grains and pollen tube growth in sugar solutions.
* Review.
Thursday afternoon sessions starting at 1.45pm, finishing at 4.45pm
Cost: £175 each person – to include cake and refreshments
BOOK ONLINE NOW. If you are unable to pay online, please contact us to find out about alternative ways of paying.
Dates: 27 September, 4, 11 and 18 October 2018
Venue: The Garden House, 5 Warleigh Road, Brighton BN1
Contact us for more information »