Textile Print Workshop
Saturday 22 September 2012
***** This event has now finished *****
Love the idea of printing your own teatowels? Then join our new 'Domestic Bliss' textile print workshop with local designer and maker Kate Strachan.
Design and print your own images onto tea towels or canvas bags. A selection of everyday domestic objects and samples of Kate's work will be available to give you inspiration and design ideas – or bring in your own well-loved domestic pieces from home!
You will be guided through initial sketches, selecting and drawing up a design and cutting paper stencils. After a simple introduction to the process of textile screen-printing, you will print your own designs onto the cloth.
The course fee will include either 2 bags or 2 tea towels per person to print on, if there is time and you would like to print more, these will be available to buy (at cost price) at the workshop.
NOTE: The items you print will still be wet and the inks not fixed. If possible please arrange collection for the following day.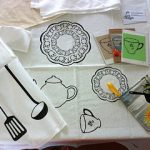 Kate teaches fashion and textiles part time and produces her own pieces using mainly vintage fabrics or linen, and makes limited edition silkscreen prints on textiles and paper. Her work references the utility era, the simple obviousness of a useful household item. It plays with the convention by which we identify an image with the thing it represents and encourages practical application but with some enjoyment. www.katestrachandesign.com
Cost: £60 – to include a delicious light lunch!
This is a daytime workshop - 10.30am to 3.30pm.  Places are limited so do contact us as soon as possible.
Location: The Garden House, 5 Warleigh Road, Brighton BN1 4NT
Contact us for more information »
« Back to Diary... upcoming events
Contact us for more information »