The Garden House Charity Day & Auction!
Sunday 23 July 2017
***** This event has now finished *****
Every summer the Garden House holds a fantastic and fun event to fund-raise for a local charity, Saturday Circle.
Do come along and visit the garden on Sunday 23 July, have a great day out, and bring your friends to support a local charity.
As usual, we will have an amazing auction (starts 3pm), with all proceeds going to the charity – and we will update you on all the brilliant lots nearer the time!
(*In 2016, our charity day and auction raised £5500 for JDRF, the Juvenile Diabetes Research Foundation, who are striving to find a cure for Type 1 Diabetes and focus on children and young people suffering from this chronic health condition)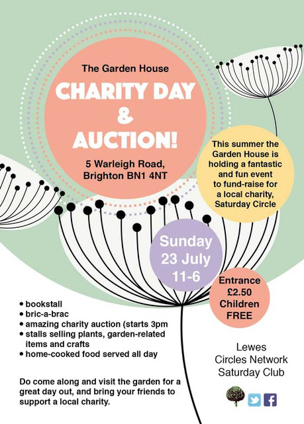 We will have a variety of stalls selling plants, garden-related items and crafts, and we will be serving food all afternoon so drop in for lunch or for tea and a slice of homemade cake.
Opening Time: 11-6pm. Entrance £2.50 / Children FREE.  Please come along and support this very worthwhile charity.
Location: The Garden House, 5 Warleigh Road, Brighton BN1 4NT
Contact us for more information »