It's Snowdrop Time at Marchants!
Posted:25 January 2021
If you're not familiar with Marchants Hardy Plants we suggest you investigate as soon as possible!
Widely viewed as the key Sussex destination for keen gardeners, Marchants is a specialist Nursery nestled in Laughton, just north of the South Downs.  Proprietor Graham Gough is the highly regarded plantsman renowned for propagating and growing a fantastic selection of herbaceous plants and grasses.
Graham is also a specialist grower of Snowdrops – well over 50 varieties – all are beautiful and many specialist or rare.
As a service to their customers missing their annual visit to buy Snowdrops due to the Covid-19 pandemic, this February Marchants is offering a limited Collection or Mail Order service. CLICK HERE for INFO: SPECIALIST SNOWDROP SALE.
The Galanthophiles among you will know that prices of Snowdrops nowadays vary enormously, and often the more alien a snowdrop looks, the higher its price tends to be.
The frenzied collectors market has also perversely driven prices to new dizzy heights, though it is unlikely a single snowdrop costing £1,500.00 will give much return beyond the fragile pleasure of cloying ownership!
Alarmingly, with such prices thefts are also not uncommon. In general Graham's philosophy is to follow the fairness of Snowdrop Trade prices. Prolific or commoner bulbs tend to be the cheapest. As rarity, newness or slowness of growth increases then the price climbs too.
Marchants Snowdrops cover all price ranges – so there should be a plant for anyone's pocket, whether deep or shallow!  Check out their comprehensive PLANT AVAILABILITY LIST and see PHOTOS of many of the Snowdrops growing in the Marchants' gardens.
Propagated by natural division of the clump, Marchants Snowdrops are of flowering size, healthy, freshly potted and ready to be planted immediately.
Snowdrops and Their Cultivation: Graham gives us the lowdown on successfully growing these truly delightful early flowering bulbs:
"Snowdrops are not difficult to grow but it is worth observing a few rules of thumb.
They do not enjoy dense shade, nor do they like stagnant, badly drained soil. Good drainage is therefore a must. Acid or lime soils seem to make little difference – they can flourish on both. That said, they prosper on thin chalk soils, encouraging for those of you who garden on this hungry type of soil.
Dappled shade can be an advantage though many Snowdrops will also prosper in full sun. In fact they are very amenable and associate well with virtually all late winter and early spring flowering plants.
When your bulbs begin to clump (3/4 years), you can then increase your stock by dividing them. Clumps left to their own devises can 'go back' or worse still, die out altogether. Division usually takes place when plants are 'In the green', during or after flowering  (though most books will tell you to do it after). We have noticed little difference.
Having gently teased a clump apart, it is important to plant at the same depth or deeper if the bulbs have risen to the surface, adding a little bone meal /seaweed meal to help give your snowdrops a good re-start. On heavy soils the addition of sharp grit is efficacious. Any remaining nurture should be left to Mother Nature.
Lastly, always label your snowdrops well. Push labels into the soil in front of and behind your clumps making sure they are just at soil level. And out of harms way. You will then have two reference points to discover its name if you have forgotten."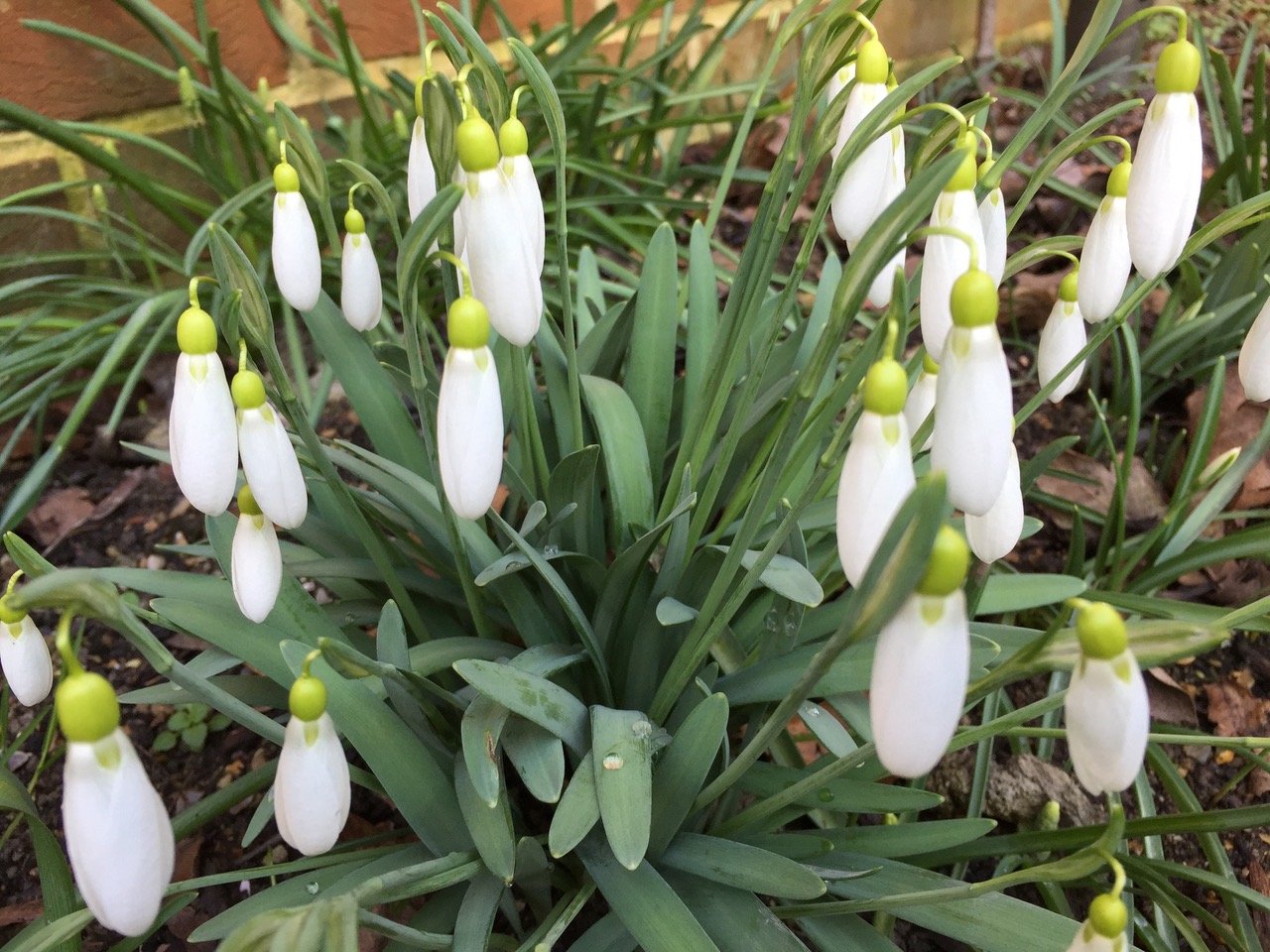 Above: Galanthus 'Marchants' Lime Pea'…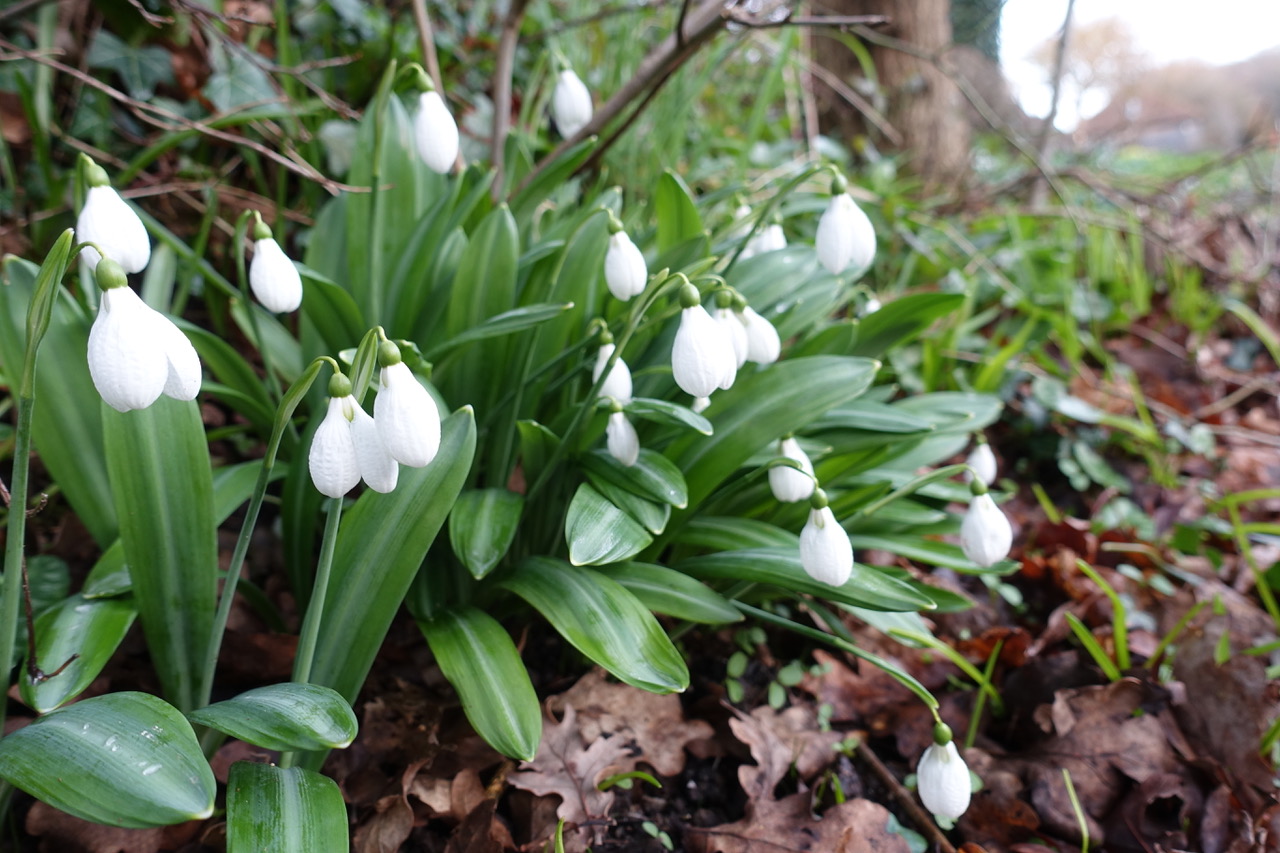 Above: Galanthus plicatus 'Fubsy'…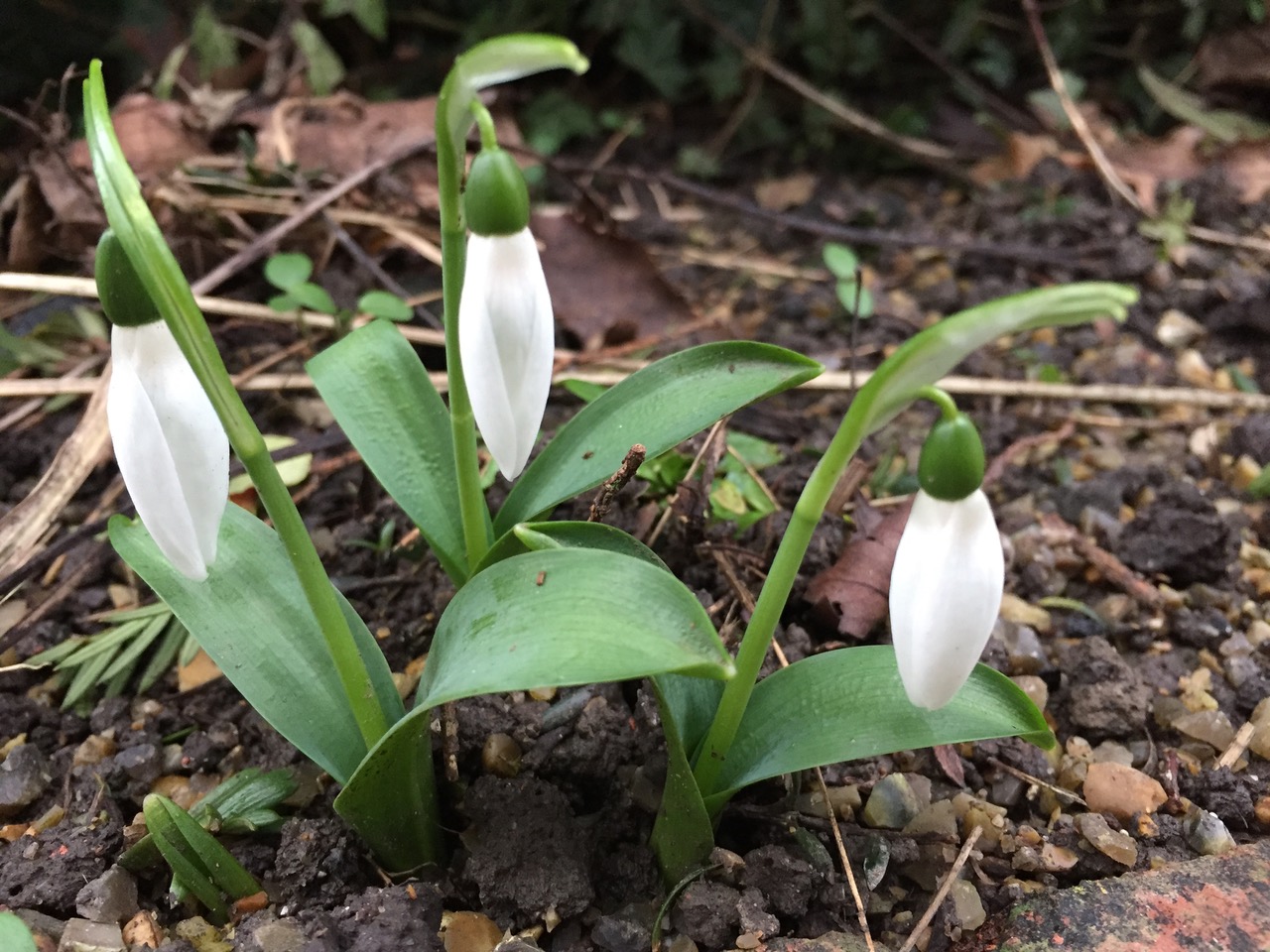 Above: Galanthus Ikariae…