Garden Gadabout: mark the dates!
Posted by editor on Wednesday, 22 June 2011
If nothing gives you more pleasure than checking out other people's gardens, then the Garden Gadabout is for you! Two weekends – 25th/26th June, and 2nd/3rd July – over 70 local gardens around the Brighton & Hove (and many beyond!) will be opening their garden gates for charity.
The gardens are wonderfully varied, giving inspiration at every turn – from the smallest courtyard to large 'wild' gardens and allotments – each with its own unique mix of planting and hard landscaping ideas.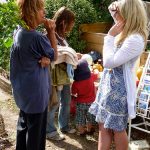 The Garden House will be open on the first weekend only, 25th/26th June. There'll be plants and seeds for sale, fresh eggs from our hens, a tombola – and a whole lot more! Our garden is a unique and imaginatively restored old market garden, extending behind other houses to make a very large space filled with vegetables, flowers and many decorative ideas using recycled materials.  We'll also be offering lunches, wine and soft drinks – so make a date, bring some friends and come along!  Find us at 5 Warleigh Road, Brighton BN1 4NT (side gate!).
For info on all the gardens and downloadable guides, go to www.gardengadabout.org.uk
Carole Klein, patron of the Garden Gadabout, says: "I'm thrilled to be patron of The Sussex Beacon's Garden Gadabout once again. This year over 70 gorgeous gardens and community spaces will be opening across the two weekends, and there's a wealth of wonders to discover. As well as scrumptious lunches and teas, many of the gardens this year will be offering something a little bit extra to make your visit even more special.
There's nothing quite like being a part of making things grow, watching and waiting for the changes that unfold day to day, season to season. The Gadabout is a great opportunity to gather ideas from all sorts of spaces. From bold and stunning contemporary designs, to quiet havens of wildlife – of all shapes and sizes. I'm a passionate enthusiast of sharing our green spaces, it's just so inspiring to discover what other people have lovingly created. So take a good browse amongst these pages and plan your visit, not forgetting of course where to stop for teas, cake and lunch.
The Garden Gadabout also fulfils an important role in raising essential funds for The Sussex Beacon, enabling them to continue their work, meeting the changing needs of men and women living with HIV. This year the funds raised by the Garden Gadabout are more important than ever, as new diagnosis of HIV continue to increase and fundraising becomes even tougher.
A big thanks goes to all the lovely gardeners who open and share their gardens, to all the volunteers who help them, and to all of you who come along and enjoy this wonderful event.
So go on….get Gadding!"
Tags: Arts & Crafts, Decorative features, Inspirational Gardens, Reused & Recycled, spring time, Summer time, Veg Growing, We love...
This entry was posted on Wednesday, June 22nd, 2011 at 11:43 am and is filed under
Lost the plot
. You can follow any responses to this entry through the
RSS 2.0
feed. Both comments and pings are currently closed.