Plant of the Month: Daphne
Posted by editor on Friday, 18 March 2011
Daphnes are invariably grown for their delightfully fragrant flowers, which most have in abundance, but some are grown for their foliage, fruit, or upright, rounded or prostrate habit.
Daphne as a genus consists of about 50 deciduous, semi-evergreen and evergreen species, from Europe, North Africa and Asia. Their natural habitats range from lowland woodlands to mountains. There are many species and cultivars in cultivation, and some are at their best in the depths of winter, when there is little else to compete with.
Family – Thymelaeaceae
Height & spread – 1.5m (5ft) high and wide
Soil – Moderately fertile, humus rich, well-drained soil
Aspect – Full shade to open
Hardiness – Hardy in some areas, may require protection in winter
Of the deciduous cultivars D. bholua var. glacialis 'Gurkha' displays pink-flushed white flowers. Another Daphne that flowers without the obstruction of leaves is D. mezereum, or mezereon as it is sometimes called. A flush of colour appears in late winter through into early spring before the leaves begin to grow. The purplish pink blooms, or white in the case of D. mezereum f. alba, cover the spreading stems that can reach up to 1.2m (4ft).
Daphne odora is a rounded evergreen shrub and another wonderfully scented example that flowers in the winter and early spring. It has clusters of white flowers edged with carmine and darkly glossy evergreen leaves.
The cultivar 'Aureomarginata' AGM has leaves with narrow, irregular yellow margins, it was awarded an Award of Garden Merit (AGM) for its scented flowers and variegated foliage. It bears fragrant, deep purple-pink and white flowers, to 1.5cm (1/2 in) across, in terminal, sometimes axillary clusters of 10-15 or more, from midwinter to early spring. These are followed by fleshy, spherical red fruit.
The hardiness varies as well as the leaf retention, flowering period and shade tolerance.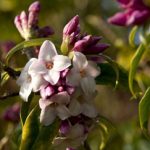 Daphnes grow well in borders or in woodland settings and once planted do not like to be moved. They will also perform well in containers. To gain the maximum pleasure from growing daphnes, plant them near paths and buildings where both the sight and scent of their flowers can be easily admired and appreciated.
The inner bark of the daphne can be used to make good quality paper, and rope. All parts of the plant are poisonous and skin contact with the sap can cause dermatitis in some people.
Cultivation:
Daphne prefers a cool lime-free well-drained sandy loam and a sunny position.
It succeeds in neutral soils and tolerates partial shade. Some species also succeed in quite deep shade. At least some forms, especially the sub-species D. bholua var. glacialis tolerate alkaline soils. It flowers well when grown in dry shade, and likes plenty of moisture in the growing season.
It grows well in urban areas, tolerating the atmospheric pollution. Plants are resentful of root disturbance and should be planted into their permanent positions as soon as possible. Keep pruning to a minimum.
Aphids, leaf spot, grey mould (Botrytis) and viruses may be a problem.
Photo credit: www.rhs.org.uk
Tags: 'Must have' Plants, Early Spring, Shrubs, spring time, We love...
This entry was posted on Friday, March 18th, 2011 at 5:57 pm and is filed under
Lost the plot
,
Plants & Planting
. You can follow any responses to this entry through the
RSS 2.0
feed. Both comments and pings are currently closed.