We love: Mosaics in the Garden
Posted by editor on Monday, 30 April 2012
At the Garden House we love a mosaic or two – especially in the garden! Sue Samways is a self-taught mosaicist with a love of gardens who has created many pieces for us – stepping-stones, mosaic-covered tabletops and mosaic-covered pots.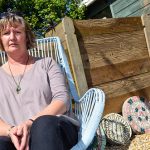 In 2001 she was commissioned to create mosaic-covered stepping-stones for a bronze medal-winning garden for children at the Hampton Court Palace flower show. Sue's passion is for creating new from old – she uses pieces imbued with history, her favourite commissions involve taking people's much-loved but broken china and creating new and unexpected treasures.
Visit the Garden House every weekend in May, 12.00 to 18.00, to see Sue's work plus that of a wonderful group of artists and makers who are exhibiting work inspired by gardening and the garden.  Located in a former market garden, we offer a unique setting for decorative and practical pieces of work by blacksmiths, potters, a basket maker, paper artists, wood workers, sculptors and painters.  Click here for list of artists.
Mosaics enhance any garden space, being both functional and beautiful – at the Garden House Sue will be selling mosaic-covered stepping stones and flowerpots (other work, including mosaic-covered mirrors can be seen at 31 Preston Park Avenue on the Fiveways trail).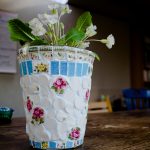 Sue has published articles in Making Magazine, she sells small pieces at RT Home in the North Laines, and regularly runs her very popular one-day workshops at the Garden House.
If you'd like to learn more about this colourful craft, book early for our next mosaic workshop, Design and Make a Mosaic Mirror, on Saturday 10 November. Sue will inspire you to experiment with colour, pattern and texture to create a totally unique mirror to decorate your home or to create as a gift (the perfect Christmas gift?!) – how wonderful!
Tags: Arts & Crafts, Decorative features, Garden House workshops, We love...
This entry was posted on Monday, April 30th, 2012 at 10:06 pm and is filed under
Lost the plot
. You can follow any responses to this entry through the
RSS 2.0
feed. Both comments and pings are currently closed.