Garden House Vouchers make great gifts!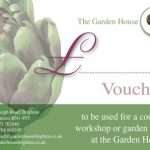 If you're looking for an really useful gift for the garden-lover in your family, look no further than Garden House Vouchers!  Ideal too for friend's birthdays, for that special 'thank you', for Easter – in fact, for any occasion!
The Vouchers come in £10 denominations, and can be bought in multiples – you can also buy a specific workshop, course or garden visit and have the Voucher for that whole amount.
Just email us and we'll do the rest – contact@gardenhousebrighton.co.uk
Our favourite seeds are for sale!
At The Garden House we have a selection of seeds for sale. Each variety is a favourite of ours which has been trialled in The Garden House garden and comes presented in a beautifully designed packet with full growing instructions.  See below…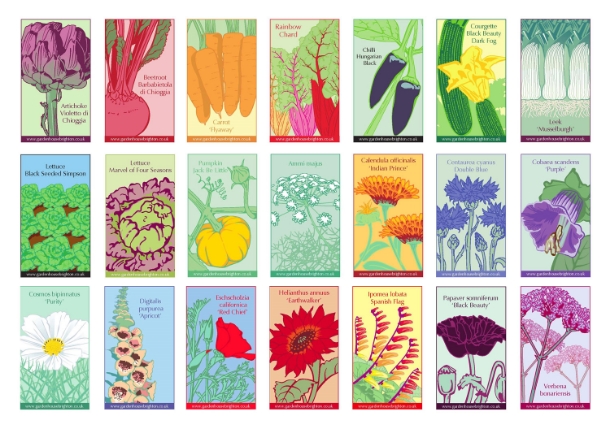 Our favourite annuals and biennials, herbs and vegetables – plants which we come back to time and time again, which we love for their special colour or variety – and which are good easy performers. Tied together with a piece of raffia, these seed packets make great gifts for keen gardeners (or keen window-boxers!).
A treat for your own garden, or a wonderful gift, our seed packets cost £2.95 each and are available to buy from us directly at The Garden House if you are attending a course or event here.
If you can't make it here, you can purchase our seeds online from gardening gift shop What You Sow.  The following varieties are available:
Vegetables:
Artichoke Violetto di Chioggia, Lettuce Black Seeded Simpson, Rainbow Chard, Lettuce Marvel of Four Seasons, Chilli Hungarian Black, Leek 'Musselburgh', Courgette Black Beauty Dark Fog, Pumpkin Jack Be Little, Carrot 'Flyaway', Beetroot Barbabietola di Chioggia
Flowers:
Ammi majus, Calendula officinalis'Indian Prince', Centaurea cyanus Double Blue, Cobaea scandens 'Purple', Cosmos bipinnatus'Purity', Digitalis purpurea'Apricot', Eschscholzia californica 'Red Chief', Helianthus annuus'Earthwalker', Ipomoea lobata Spanish Flag, Papaver somniferum'Black Beauty', Verbena bonariensis
Allotment Gardening by Bridgette Saunders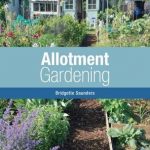 Bridgette Saunders is an experienced horticulturalist, planstwoman and lecturer. She runs courses on allotment gardening from her home in Brighton and teaches at City College, Brighton and Hove, where she enjoys inspiring her students to grow a variety of plants, both edible and ornamental.
Her book Allotment Gardening, published October 2009, deals with all aspects of the allotment 'experience'. It is beautifully illustrated with photographs taken by Rhoda Nottridge, and by Bridgette herself, in her own vegetable patch and local allotments in and around Sussex and Norfolk.
It covers how to plan and design your allotment, whatever its size and aspect; considering the soil quality; what fruit, vegetables and flowers to plant; how to tackle pests, diseases and predators; and most importantly, what to do when – the seasonal calendar.
Buy the book direct from us, priced £13.50 (pls make cheque out to Bridgette Saunders or Deborah Kalinke, and send to The Garden House, 5 Warleigh Road, Brighton BN1 4NT) – or buy from www.amazon.co.uk