Posts Tagged

'Climbers'

Posted by editor on Friday, 8 June 2012
I doubt if there is anything about roses that Simon White does not know. He has worked for multi-medal-winning Peter Beales Roses in Norfolk for 30 years, but said that when he started there he didn't care much for roses, but was just looking for a job! This was Simon's second workshop for The Garden House, and he is a storehouse of rose-related facts and insider stories.
We began with a comprehensive A-Z of Roses, accompanied by lots of pictures, which gave us a good grounding in the many different types of rose. Already we were noting down the names of old favourites, must-have unfamiliar ones, and desirable new introductions. Simon's message was that roses are a very versatile plant: there is something for every situation. Particularly useful was the knowledge that shrub roses grown against a wall or fence will climb up while still flowering beautifully from the base.
From where I was sitting, the fragrance from a bucket of cut roses standing just outside kept wafting in. They had featured on the Peter Beales stand at Chelsea the previous week and were still in amazing condition. We passed them round to look at their colours and forms and tried to describe each one's distinctive scent. Then we were given a demonstration of the professional method of propagating roses from tiny buds on to rootstock. We were also shown how to plant a rose to get it off to a good start, especially in our local chalky soil or to avoid rose replant disease – apparently the secret is all in a cardboard box.
The very full and informative day ended with a walk around Bridgette's garden, rose-spotting. Although I'm very familiar with the garden from working in it each week with the Friday group I was still surprised by the number and variety of roses growing there – although Simon was reluctant to spend time on any that had been bred by their famous rival rose-growers (whose initials are D.A.)
Posted by editor on Saturday, 11 February 2012
Here at The Garden House we have many lovely roses – climbers, shrubs, ramblers, miniatures – we're passionate about them!  But we also know that roses carry a certain mystique with regard to care – when to prune, how to prune, when to feed, with what etc…
If you know someone who would love to know more about roses and their care, why not buy them a Garden House Voucher (£10 upwards)?  The Voucher can be put towards any workshop, course or garden visit – but would be especially appropriate right now put towards our "All You Need to Know About Roses" workshop, taking place Saturday 2 June. The workshop will be led by rose expert Simon White of Peter Beales nursery in Norfolk. www.classicroses.co.uk
Contact us now and we can email a voucher to you before the 14th…!
If you're thinking of planting some new roses this spring, remember that, as with all plants, it is so important to consider 'right plant, right place' – below is a list of some of our favourites:
Climbers for north-facing walls:
R. 'Alberic Barbier' AGM (Climber/Rambler). Flowers rich cream, apple fragrance, some repeat flowering, some winter leaf persistence. Ht 6m (20ft).
R. 'Dortmund' AGM (Climber). Single, blood-red flowers; repeat-flowering. Ht 2m (6½ft).
R. 'Félicité Perpétue' AGM (Climber/Rambler). White flowers, buds tinged red, some winter leaf persistence. Ht 5m (17ft).
Very vigorous roses for climbing into trees:
R. filipes 'Kiftsgate' AGM (Rambler). Slightly fragrant; one flowering period; creamy white flowers. Ht10m (30ft).
R. longicuspis (Climber). Slightly fragrant; one flowering period; white flowers; semi-evergreen, tender. Ht 6m (20ft).
R. 'Seagull' AGM (Climber/rambler). Slightly fragrant; one flowering period; white flowers with golden stamens. Ht 4.5m (15ft).
Roses for training up pillars: (Need to be flexible-stemmed, produce flowers at the ends of all current seasons growth, and preferably be of moderate vigour.)
R. 'Compassion' AGM (Climber/Rambler). Double, fragrant, repeat flowering; pink, shaded apricot blooms. Ht 2.4m (8ft)
R. 'Danse de Feu' (Climber) Double; repeat flowering; orange to scarlet flowers. Ht 2.4m (8ft)
R. 'Golden Showers' AGM (Climber/Rambler). Double; fragrant; repeat flowering; golden yellow blooms. Ht 2.1m (7ft).
Patio climbers are useful for smaller structures up to 3m (10ft) or so high: In a sunny spot, try pale cream, pink-tinged 'Penny Lane' ('Hardwell'), or mauve-pink, heavily-scented 'Gertrude Jekyll' ('Ausbord').
Roses with ornamental foliage:
R. 'Highdownensis'. Large, single crimson flowers, ferny leaves. Ht 3m (10ft).
R. multibracteata. Pink, single flowers; neat rounded leaflets. Ht 3m (10ft).
R. primula AGM. Pale, small, yellow flowers; shiny aromatic leaves; one flowering period. Ht 1.8m (6ft).
R.  sericea var. pteracantha. Red thorns; creamy-white flowers; small ferny leaves. Ht 2.4m (6ft).
Some roses suitable for hedges:
R. 'Cornelia' AGM. Double, fragrant apricot pink blooms. Repeat flowering. Ht 1.5m (5ft)
R. 'Roseraie de l' Hay' AGM. Double, fragrant wine red blooms. Repeat flowering. Ht 2.1m (7ft).
R. 'Zéphirine Drouhin'. Semi-double, fragrant carmine pink flowers. Thornless and repeat flowering. Ht 3m (10ft).
Roses with very decorative autumn hips:
R. 'Fru Dagmar Hastrup' AGM. Silvery pink single flowers; large red fruit. Ht 90cm (3ft).
R. rubrifolia.  Pink flowers once a year; scarlet globular hips. Ht 2.1m (7ft).
R. rugosa. Cerise or white flowers once a year; scarlet globular hips. Ht 1.8m (6ft).
Roses for ground cover:
R. 'Nozomi' AGM. Single pink flowers; one flowering period. Ht 30cm (1ft) and spread 1.5m (5ft).
R. Snow Carpet 'Maccarpe' Single, double white flowers throughout summer. Ht 15cm (6in) and spread 90cm (3ft).
R. Surrey = 'Korlanum'AGM. Double pink blooms from early summer until late autumn. Ht 60–90cm (2-3ft) and spread 90cm-1.2m (3-4ft).
Posted by editor on Sunday, 14 August 2011
At this time of year, hardy Passiflora are in full bloom.  A wonderfully exotic-looking plant, the Blue Passion Flower (P. caerulea) has large white flowers and central filaments of purple, blue and white, followed by egg-shaped, orange-yellow fruit, and flowers from July to September. The fruit are edible, but not very tasty and not to be confused with ones you can buy in the supermarkets!
This vigorous, trouble-free climber looks really good in a tropical planting scheme, and will grow best at the base of a sheltered wall in full sun, although they can tolerate some shade. Even the leaves and tendrils look other-worldlly, deeply lobed, dark green and glossy. It is frost hardy but may need some winter protection in cold areas.  The eventual height is 10 metres.
The "Passion" in "passion flower" refers to the passion of Jesus in Christian theology. In the 15th and 16th centuries, Spanish Christian missionaries adopted the unique physical structures of this plant, particularly the numbers of its various flower parts, as symbols of the last days of Jesus and especially his crucifixion:
The pointed tips of the leaves were taken to represent the Holy Lance
The tendrils represent the whips used in the flagellation of Christ
The ten petals and sepals represent the ten faithful apostles (excluding St. Peter the denier and Judas Iscariot the betrayer)
The flower's radial filaments, which can number more than a hundred and vary from flower to flower, represent the crown of thorns
The chalice-shaped ovary with its receptacle represents a hammer or the Holy Grail
The 3 stigmas represent the 3 nails and the 5 anthers below them the 5 wounds (four by the nails and one by the lance)
The blue and white colours of many species' flowers represent Heaven and Purity.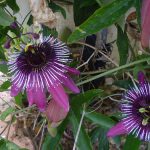 There are many other beautiful passion flowers but many of them need to be protected and are best grown in a glass house or conservatory.
Being easy to grow they require little maintenance, but if you don't want them to reach too high, plant in pots or tubs and let them grow up and cascade over an obelisk.
Choose three to five of the strongest shoots, tying them in to horizontal wires. Once the plant is established, cut back the flowered shoots immediately after flowering to within two or three buds of the permanent framework of the plant. In spring remove dead, misplaced or overcrowded stems.
If you want to find out more about passion flowers, Passiflora: Passionflowers of the World by Torsten Ulmer and John M. MacDougal is a really good read.