What a great weekend!
Posted:1 May 2017
We opened for the NGS (National Garden Scheme) this bank holiday weekend, and thanks to our wonderful visitors raised well over £2,000 for charity!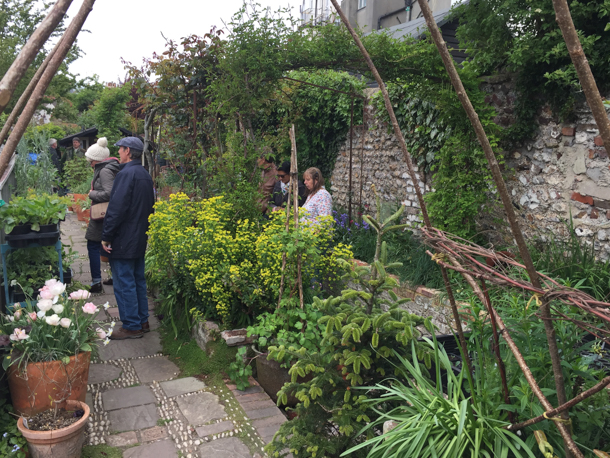 The weather may not have been perfect (though Saturday was super sunny!) but garden was looking great with tulips, vegetables and many late spring flowering plants well underway – hazel and pea-stick structures created delightful architectural 'waves', 'arches' and 'spires' throughout the garden.
We next open our garden gates on Saturday 03 June for our Specialist Plant Fair, another very special opportunity to view a variety of specialist plant stalls, selling all manner of vegetable seedlings, Dahlias, succulents, herbaceous perennials as well as trees and shrubs.
And if you need a local garden 'hit' before then, do visit Barbara's garden in Hove on Sunday 21 May. We often take our Garden Design students there as it's such a great example of garden design in action and is full of ideas to take away. It is a large suburban garden on four levels, with a deep natural pool (created from a large swimming pool), a black and white pebble mosaic, overflowing greenhouse and vegetable plot, many decorative features and beautiful planting – and is located at 11 Tredcroft Road, BN3 6UH (near Hove Park, with plenty of free on-street parking!)
The garden will be open in aid of The Alzheimer's Society, and Barbara is joining with Weleda, beauty through balance of body, mind and soul; and Miranda's Plants, perfect perennials, adorable annuals and healthy herbs plus of course there will be delicious homemade quiches, cakes and refreshments!  Do go along and take friends.