Archive for

December, 2009

Posted by editor on Sunday, 6 December 2009
The aroma of mulled cider, the scent of eucalyptus and pine – what else could it be but wreath-making at The Garden House! Bridgette and Deborah's festive wreath-making workshops mark the start of Christmas for me – once my home-made wreath is on the front door, I'm ready to tackle the tree, cards and presents!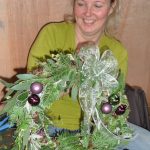 Piles of winter foliage, richly colourful berries and dried seed-heads, all culled from Bridgette and Deborah's gardens – and local car-parks! – are ready and waiting. Everything we'll need is laid out in the garden workshop, the wood-burning stove is on, we've had our coffee and stollen (mulled cider comes later!) and we're ready to go. Deborah shows us how to prepare the base – moss tied to the circle of strong wire – and how to bind with any of the great selection of ivies, then how to prepare and pin on the smaller bunches of berries, foliage and seed-heads. Then it's simply a matter of choosing what you want to use from the winter bounty, all piled up outside under the wooden shelter.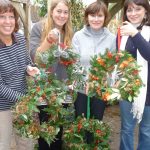 The end results are fantastic – every wreath is different, and so creative – and everyone is happy, smiling, and delighted with their individual achievements. It's a great way to catch up with friends, and to mark the start of the festive season…