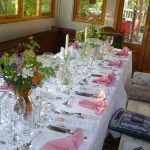 The Garden Room is situated in the gardens behind 5 Warleigh Road, a central Brighton location, accessible by bus and train, with London Road Station just a five-minute walk away.  The Garden Room comprises two areas – the large room is approx. 4m x 6m, ideal for larger groups, and the small room is suitable for one-to-one sessions.
This smaller room is internet-connected; it also has a kitchen area with microwave, fridge, tea urn, kettle and two-ringed electric cooker suitable for heating up food.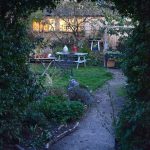 The larger room has two tables and is suitable for 12 people to sit and work comfortably.  It is possible to rearrange the tables if need be and we also have extra tables available.  More people could be accommodated for a talk or a lecture – up to 20.
The room is heated by a wood burning stove and also has secondary heating with oil fired radiators.
The Garden Room overlooks the garden, a lovely setting (the garden has been featured on TV and also in a variety of garden magazines); it also has an outside shelter which would be suitable for outdoor workshops or to have lunch or refreshments during the warmer months.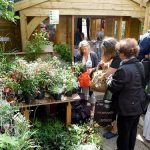 It is accessed through a gate at the side of the house, down a well-lit path, so is suitable for evening classes or meetings.
Catering and refreshments: We are able to provide a range of delicious seasonal food, locally sourced, and where possible produced from the garden (including the eggs from our hens!).  We can provide food to welcome a group, lunches or supper, or snacks and nibbles in the evening.  Wine, soft drinks or tea/coffee can also be arranged.
If you need any further information on rates, catering or sample menus, or would like to book The Garden Room, please contact us at contact@gardenhousebrighton.co.uk