Archive for July, 2016
Posted by editor on Monday, 25 July 2016
Sunday 17 July; another great open day in the Garden House, and another great result for our chosen charity. This year we managed to raise £5,500 for JDRF, the Juvenile Diabetes Research Foundation, which is striving to find a cure for Type 1 Diabetes and focuses on children and young people who suffer with this chronic health condition.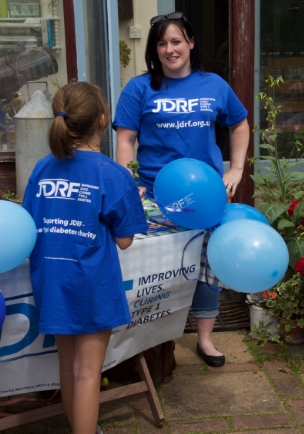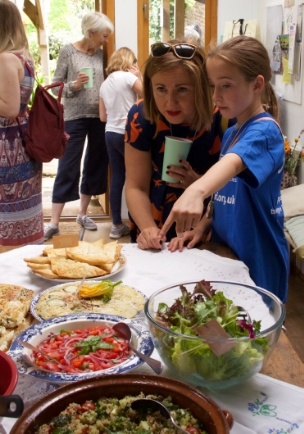 The JDRF team helping and organising…
Just before the Auction, one of the JDRF team told us all a little about the charity and the importance of raising both awareness and funds. A breakthrough in research could mean an end to constant, daily and often painful medication and dangerous highs and lows of blood glucose levels, not to mention the nasty long term effects of living with this disease. JDRF fund research projects all over the world, organising events to bring people together to support, share and learn about their condition.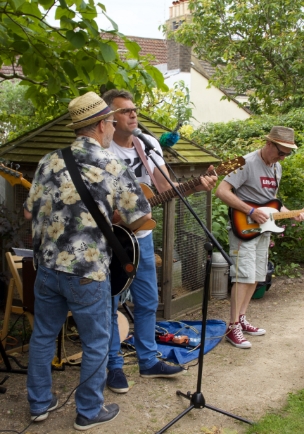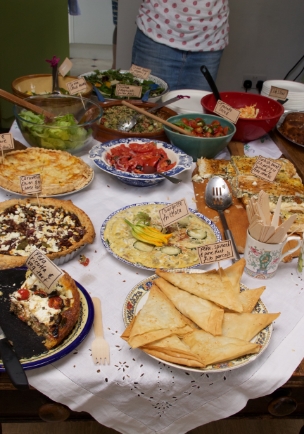 Fantastic live music, homemade dishes and cakes…
This greater understanding of the condition undoubtedly spurred everyone on to dig deep when it came to bidding for the many auction lots – which included everything from a week in a house in France, to a session with a chiropractor, to two beautiful watercolour paintings donated by local artists, Kate Osborne and Mary Middleton.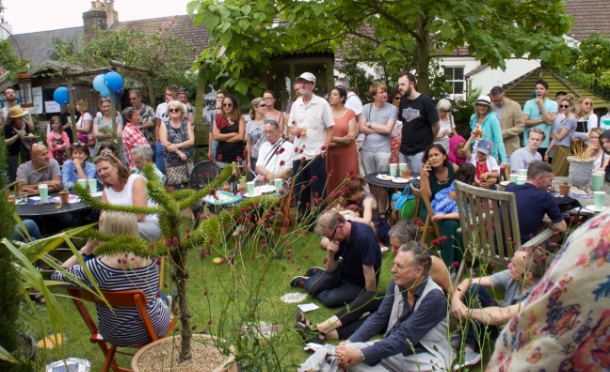 Eagerly anticipating the auction lots…
We also had wonderful plants stalls, delicious homemade foods and refreshments, and many gift stalls selling among other things books, ceramics, soaps, vintage embroidered cloths, jams – encouraging visitors to linger, relax and enjoy the sunshine in this unique Brighton garden.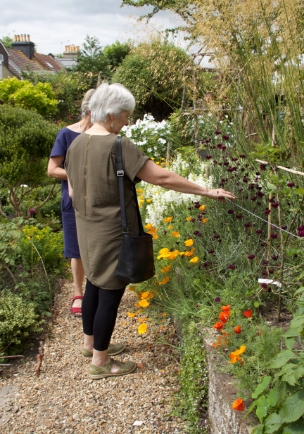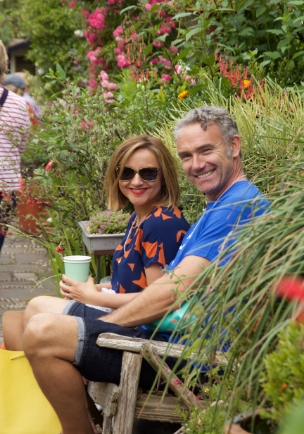 Enjoying the garden…
After all the open garden visitors had departed, the day ended with a delightful 'pot luck' dinner in the garden, celebrating the end of the gardening year with Bridge's Friday Gardening Group who spend every Friday morning tending this special place. If you are interested in learning new skills in horticulture by joining a warm and supporting group of like-minded gardeners, enrolment has started for September 2016.
Photos taken by GH friend Cathy Maxwell.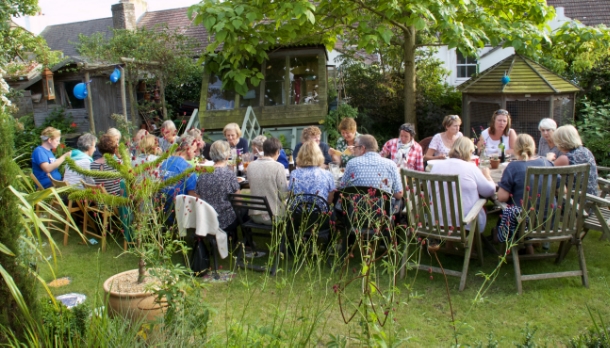 Bridge's Friday Gardeners celebrating the end of their garden year…
Meeting every Friday morning in term time between 9:30 and 13:00 we share knowledge and tips for a variety of horticultural tasks including vegetable growing, propagation, pruning, landscaping, making structures, looking after a glass house, composting, lawn care and creating borders and other ornamental features in the garden. The next part of the morning is spent in the garden, working in small groups, learning new skills and having lots of fun in the process! It is the aim of the group to open the garden for the National Gardens Scheme in the spring and then work towards opening again at the end of the course in July for a charity chosen by the group.
If you are interested, please email Bridge at contact@gardenhousebrighton.co.uk with your contact details and then I will call you to talk about the course in more detail. The cost of the course is £400 per year and includes, coffee and refreshments each week plus a taught session and lots of plants to take home.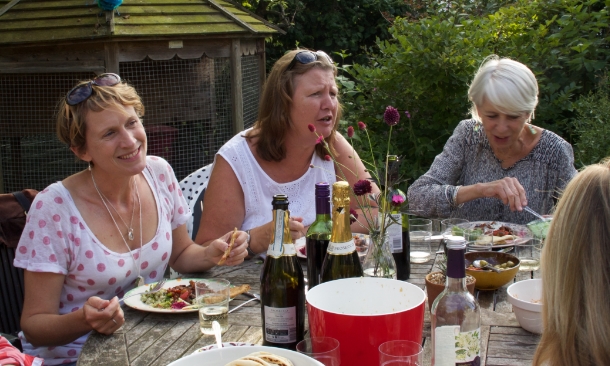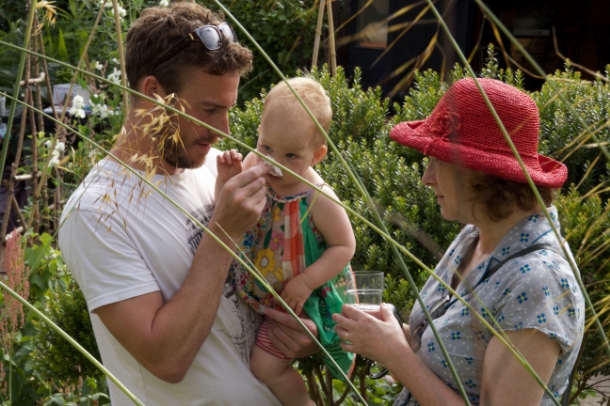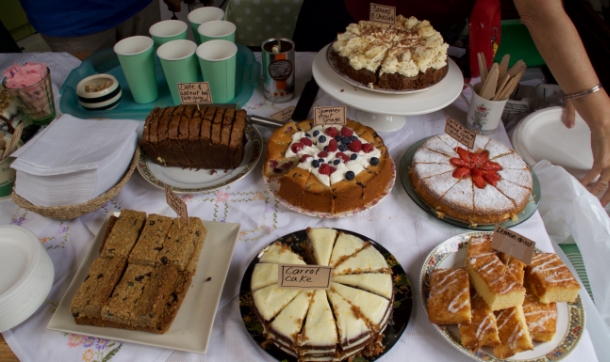 Posted by editor on Sunday, 17 July 2016
Just a couple of weeks ago, we set off in a deluge that covered the whole south-east and returned to Brighton just in time for a thunderstorm. But in between the rain managed to hold off for our three days of garden visiting. We even saw some sunshine, although bank after bank of threatening cloud was never far off.
Our first stop was Broughton Grange in Oxfordshire, where we were given a tour by the head gardener. The modern walled garden, on three terraces down a slope, was designed by Tom Stuart-Smith and included a formal pool and an unusual parterre of box clipped into organic shapes. We walked through the woodland garden and saw the new stumpery. Although time didn't allow a visit to the 80-acre arboretum, we had a good view of both the well-established and new sections and learned about its development. There is a small nursery too, so it was our first chance to fulfil the other aim of the trip – to buy plants.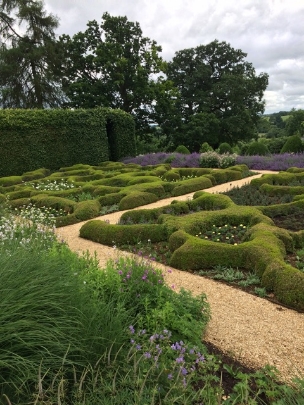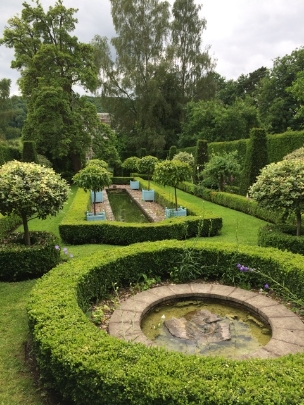 Broughton Grange parterre; Morville Hall canal garden
It was here too that we had our first Adventure in Coach Parking. After weeks of unseasonably heavy rain the car park – i.e. field – was pretty squishy and we had to disembark and give the coach a push when it got stuck, then accompany it on foot through the waving grasses to reach a solid track. The sun came out and it was reminiscent of one of those films where everyone comes together to raise a barn or bring in the harvest! However, it was a sign of Things To Come.
A further adventure took us up the narrow switchback track to Stone House Cottage Garden & Nursery, near Kidderminster. This deceptive 1-acre garden is divided into compartments by walls and hedges and punctuated by quirky brick towers. Climbing plants are a speciality but everything seems to be a speciality here, as even the most knowledgeable plant-persons on our trip were amazed by species and cultivars we didn't know, all beautifully combined. Colours and textures of the many shade-loving plants were particularly impressive. The rather eccentric nursery allowed more discoveries and acquisition.
Getting out of the parking space involved a 19-point turn for our brave coach driver, Andy, who was on an even bigger journey of discovery than us plant-hunters.
Our final stop was at the hotel just outside Telford where we spent the 2 nights of the trip. We took the plants out of the coach to let them breathe and make room for more the next day. This was when we began to find out just how much room we were going to need for them! Tall plants, trailing plants, plants with gawky elbows and fragile feathery tops, all had to be accommodated. Suitcases, not so much.
Next morning found us with the Rallings at Mynd Hardy Plants, Delbury Hall Estate, near Craven Arms, Shropshire, a nursery in the lovely setting of an old walled garden. Richard gave us a talk on the history of walled gardens, with some examples that would be well worth a visit, then a tour of the garden and also of the adjoining Delbury Hall grounds. A highlight was the delicious lunch put on by Jill and her helpers, unbelievably their first time catering for a group. We spent time scouring the rows of tempting flowering plants, and filling up the coach even more.
Another garden, another narrow lane and sharp turns to negotiate. The Dower House, Morville Hall, near Bridgnorth, features in Katherine Swift's The Morville Hours, her account of making the garden. The 11/2 acres depict the history of English gardening in progressive sections, including a turf maze, mediaeval and Elizabethan gardens, 18th canal garden, Victorian Rose garden. Much of it is romantically wild, and full of wildlife. Katherine and her husband were very welcoming hosts and gave us an amazing homemade tea in the small ivy garden next to the house.
Finally, after an interesting stop in Presteigne High Street to buy wine for our evening meal, on to nearby Bryan's Ground, a theatrical garden made from a field and recorded in the fascinating photo albums on display. There are 3 acres of interconnecting garden rooms, with many surprises and a curly-edged canal, plus 5 stylish acres of arboretum on the edge of a river bordering Wales. Wonderful views are captured in clever windows and framings. We finished the visit with supper in the Loggia, provided by a local deli & collected by coach (!)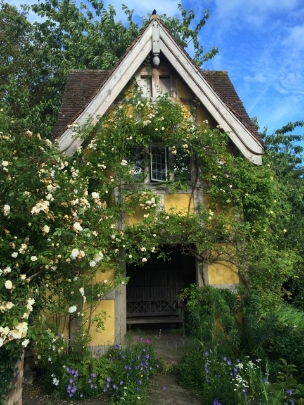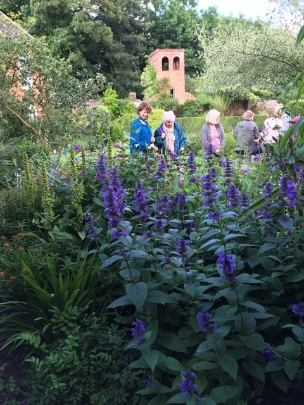 Bryan's Ground cottage; Stone House Cottage Garden
Our final day took us to Wollerton Old Hall, Market Drayton, a modern garden with echoes of Arts & Crafts designed and developed by owners John and Lesley Jenkins since 1984. It is a real plant-lovers' garden, beginning with the beautifully-planted tall pots at the entrance. John likes rare plants and shrubs, often with white flowers, while Lesley's speciality is the lush planting near the house. The new head gardener gave us a tour of the formal areas and a quick look at the wilder area beyond. Again the garden was divided into themed compartments, immaculately cared for. The Llanhydrock Garden with its hot borders was looking very good even under dull grey skies. The small nursery, with a good collection of salvias, was our last chance to add to all the plants we had stashed away in the coach.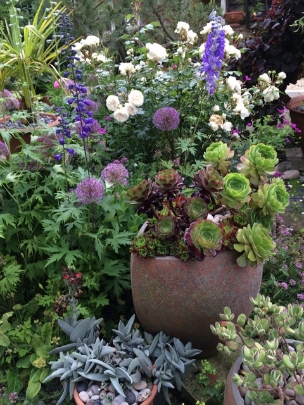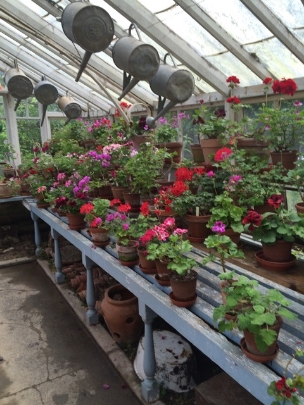 Which ford Pottery; Bryan's Ground greenhouse
The very last stop was in the Cotswolds – family-run Whichford Pottery, Shipton-upon-Stour – where we had a guided tour and saw special pots made to commemorate Shakespeare's 400-year anniversary and the Queen's 90th birthday. The pots are all hand-made and the process was fascinating, the young team highly skilled and enthusiastic. We had a great late lunch in the eco-cafe on the premises & some of us even braved the eco-loo. The whole place is very environmentally-minded, relaxed and enjoyable. There were no plants on sale this time but a small, gorgeously-planted courtyard garden showcased the pots and gave us lots of inspiration. So then we just had to fit all our pottery purchases on to the coach!
It was an extremely packed three days, very well organised by Bridge and Deborah, with a really good mix of garden styles and sizes. It was brilliant to be the only visitors in the gardens and to hear from the experts. And the sight of everyone staggering off the coach at the end and fitting unfeasible amounts of plants into small cars was quite something.