Bridgette Saunders and Deborah Kalinke

Bridgette, what got you started and what do you do now?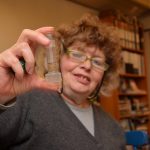 I have had an interest in horticulture and nature since I was a child, being greatly inspired then by my father, and later by the work and writings of several other gardeners including Geoff Hamilton, Beth Chatto and Carol Klein. I am currently teaching horticulture in Brighton, and over past years have been involved in creating medal winning gardens with my colleagues and students at both the Chelsea Flower Show and Hampton Court.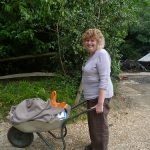 For several years I helped organise the annual Garden Gadabout – a local open garden scheme in aid of the Sussex Beacon care centre. The scheme included over sixty private gardens around Brighton, Hove, and wider area, and provided a fantastic opportunity to look at 'real' gardens, discuss them with the owners – and of course, to support a local charity. In October 09 I published a book on allotment gardening (Allotment Gardening by Bridgette Saunders, The Crowood Press ISBN 978 1 84797 022 0).
Where do you garden?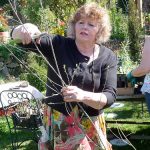 I am lucky enough to have a large garden in central Brighton where I grow trees, shrubs, herbaceous perennials and vegetables – and keep chickens! It was previously a market garden, however when my partner Graham and I bought it nearly 15 years ago it was completely overgrown and full of junk – so its restoration into a working and inspirational garden has been a labour of love from the start!
"Just occasionally you step into a garden full of magic and you're overtaken by its spirit. Bridgette and Graham's garden inspires and entrances, it's full of energy and life, it's irresistible." Carol Klein
As well as running The Garden House from here, we also open the garden several times in the year – either in support of local charities or as part of the National Garden Scheme www.ngs.org.uk
This year we managed to raise £5,500 for JDRF, the Juvenile Diabetes Research Foundation, which is striving to find a cure for Type 1 Diabetes and focuses on children and young people who suffer with this chronic health condition.  Read the report HERE.
Just before the Auction, one of the JDRF team told us all a little about the charity and the importance of raising both awareness and funds. A breakthrough in research could mean an end to constant, daily and often painful medication and dangerous highs and lows of blood glucose levels, not to mention the nasty long term effects of living with this disease. JDRF fund research projects all over the world, organising events to bring people together to support, share and learn about their condition.
So what inspired The Garden House?
Well I greatly enjoy sharing information and involving others in creative horticulture, Deborah is a brilliant garden designer – and we both love gardens! So inspiring people to garden, showing them 'what to do, and when' in a friendly but knowledgeable way, and introducing them to the joys of working even the smallest patch, was something we simply had to do. Arranging garden visits, courses and workshops came a little later, but now of course, as people have requested more and more, this has become central to our business and our pleasure.
Deborah, what got you started and what do you do now?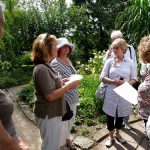 Having been a teacher for many years, about six years ago I decided to make a radical change in my life and retrain in horticulture and garden design. Ironically my first gardening course was Bridgette's 'Bringing winter colour into your garden'!
Seriously though, my grandmother was my great inspiration. She was a wonderfully eccentric person and as a child I spent many happy hours pottering about her inspiring garden – possibly the seeds for my second career were sown then!
Over recent years, The Garden House has become an integral part of my life. Bridgette and I just love connecting with like-minded and enthusiastic people.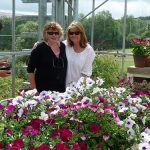 My garden design business also continues to prosper. Whilst I love to design for any size of garden, in any situation, my real interest lies in designing smaller gardens – roof terraces, courtyard gardens and front gardens. Bringing individuality and character to a super-small space requires a really disciplined approach – there are so many plants that I love, but I find working with a palette of 'greens' as my base works really well. I then introduce colour fairly sparingly, preferring softly tonal plants like Alchemilla Mollis.
Where do you garden?
Well, I have two gardens. My 'home' garden is in Lewes, East Sussex, where I have a tiny walled courtyard garden. And my 'holiday' garden is at our stone house in Greece.
In Lewes I've kept the look quite sharp. It's a small space, so I've simply designed a series of raised beds. I've used sawn Travertine stone pavers, and in one corner I've created a water feature for focus. The garden in Greece is a complete contrast, far more rustic. Mediterranean planting of course – as we're not there all the time, the planting has to withstand super-drought conditions!
In fact, planting designed to withstand extremes is another subject that greatly interests me. So many gardens on the south coast have to survive pretty tough and changeable conditions. They can be very dry, very exposed, and at times, very wet – and of course our local chalk soil is challenging too!
Bridgette and Deborah – what are your future plans?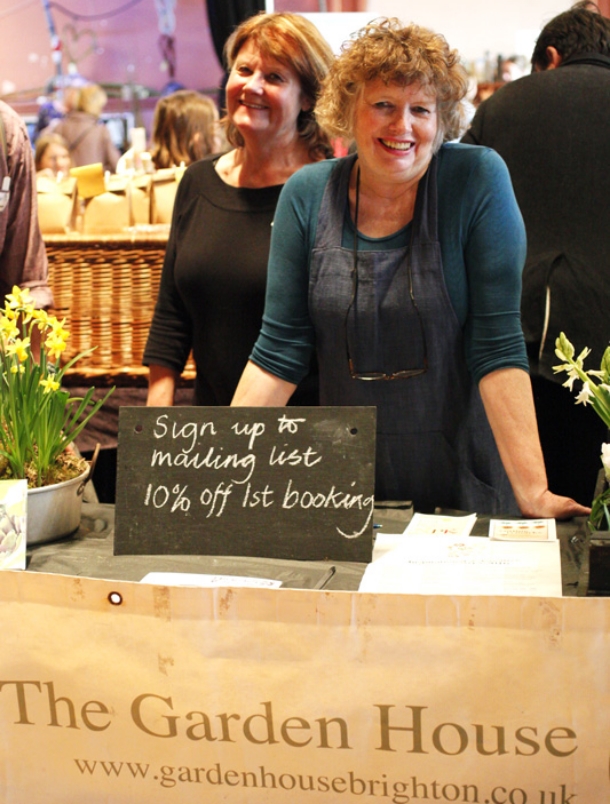 The Garden House goes from strength to strength. We always have to think ahead! In November 2009 we built our fab garden studio – literally 'the garden house'! It is sited in Bridgette's garden, nestling in amongst the trees – a large teaching space where we can comfortably hold courses for up to 25 people, all year round (it's got a wonderfully cosy wood-burning stove). Since then it has been in use non-stop.
We now run a wide variety of courses, talks, visits and workshops – for both the enthusiastic amateur and the more experienced gardener.  We also organise garden-focussed trips further afield. In 2010 we organised a very successful visit to Cape Town, South Africa, taking in the Kirstenbosch National Botanical Garden; other trips have included Berlin, taking in some amazing gardens and the city's diverse cultural scene, Bruges and Amsterdam, and Dublin – and in 2016, we enjoyed an amazing trip to see the gardens of Japan.  In 2017 we have plans to visit gardens in Norfolk, also Madeira – and possibly even Japan again!
NB The Garden House studio is also available to hire, and we already have many local organisations and craftspeople running courses or arranging pop-up events here.