Diary of a Garden House visit to Berlin
Posted:26 July 2011
Last week, eight enthusiastic gardeners, led by the wonderfully energetic and patient Bridgette and Deborah, set off for Berlin – our mission, to take in Berlin's key sights and experiences, and visit some excellent and varied gardens.
Sunday: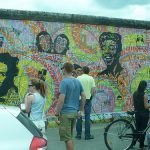 Our visit started with an orientation tour of central Berlin, taking in the Brandenberg Gate and Hotel Adlon (site of Michael Jackson's notorious baby dangling), Unter den Linden, the Tiergarten, some remaining stretches of the Berlin Wall near Checkpoint Charlie with a sobering exhibition about Nazi Germany, and further on a stretch of the wall sporting bold upbeat political murals. We saw the Reichstag, now one of the most modern of government buildings, following a five-year transformation by Sir Norman Foster (1994-1999). We then retired to our delightful Heckers Hotel for a little r & r (and to the bar next door which served possibly the strongest gin and tonic on record!).
Our first meal in Berlin, at a traditional German restaurant, was made all the more memorable by the proprietor Ramona, who not only recommended the best dishes (no short cuts, the roast potatoes must be eaten!) but treated us to a rendition of God Save the Queen as she danced through the restaurant, lights dimmed, brandishing a sparkler. She had once appeared on Birds of a Feather and could recite her lines word for word. It was a hugely entertaining end to our first day!
Monday:
By bus to the Botanic Gardens to meet botanist Beae Senska, our informative and enthusiastic guide. The Botanisher Garten has the largest plant geography section in the world and with almost dizzying speed we worked our way through Europe, Asia and the Americas. Particularly impressive were twelve unique rock gardens representing different mountain regions, steppe, dune and heathland. There were so many highlights, but one my favourites was the medicinal plants section, beds arranged in the shape of a human body, and the fragrance and touch garden including Mediterranean herbs and pelargonia and the heady scent of the Heliotropium peruvianum.
We visited The Jewish Museum that afternoon. It is housed in a spectacular building designed by Daniel Libeskind, the concept of which is to show both tragedy and continuity in the Jewish experience and by means of changes in perspective and floors and walls which slope, to show a world out of balance. It was a very moving visit and our remarkable guide Karin Grimme brought alive the experience of Jewish women through history, with quiet passion and dignity.
Tuesday: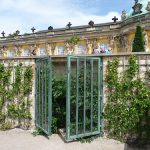 Potsdam today to explore the very baroque Schloss Sanssouci, with its breath-taking south facing terraced walls covered with fig trees and vines, and the open vistas, formal gardens, fountains and marble statues of the Sanssouci landscaped park.
Two of us went to the Orangery, first noting the beautiful herbaceous planting and ornamental vegetable borders, then visiting the royal living quarters with original 18th century parquet floors across which we had to slip and slide in our enormous grey felt slippers (good wheeze to get the tourists doing the polishing for them we thought). Then on into a whole gallery of copies of Rafael's master works, before climbing the spiral staircase to the top of the observation tower to be rewarded by a beautiful view of the formal symmetry below.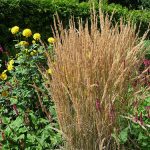 The afternoon was a special treat a visit to the nearby private garden of nurseryman and plantsman Karl Foerster (1874-1970), little known outside Germany but very influential in his own country. We were shown around the garden by Professor Norbert Kuern who was in part responsible for the restoration of this inspiring yet very accessible garden, with its sunken garden, spring walk, wild and rock gardens. He talked of Foerster's interest in the naturalistic planting of William Robinson and in the work of both Jekyll and Lutyens, and of Foerster's passion for cultivation Foerster bred many perennials including grasses (the very well-known Calamagrostis x acutiflora Karl Foerster, and I rather liked Carex caryophyllea 'The Beatles').  We also admired his hemerocallis hybrids 'So Lovely' really did speak for itself.
After sampling the local bus, tram, overground trains and U Bahn we arrived back at our hotel. Our evening meal was at a particularly impressive vegetarian restaurant, not dissimilar to Brighton's own Terre a Terre – so little coincidence to find a Brighton woman working there who had previously worked at Terre a Terre!
Wednesday:
The Bauhaus Archiv today.  The building, itself an example of Bauhaus aesthetics, contains an enormous collection of work from the Bauhaus School (1919-1933), including architecture, design, art and photography work by famous Bauhaus artists including Walter Gropius, Mies van der Rohe, Paul Klee, Wassily Kandinsky, Lyonel Feininger and Oskar Schlemmer.  It was a fascinating reminder of just how influential this movement, started in Germany by Walter Gropius, has been on modern art forms.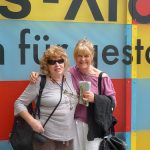 This was my first visit to Berlin. I saw and learnt so much, and yet I felt I'd barely touched the surface. Always good to leave wanting more, I'll be going back for sure! Many thanks to Deborah and Bridge (seen here outside the Bauhaus Archiv) and everyone in the group for making it so special…
Written by Ruth Harris