Garden House Trip to Norfolk, Suffolk and Essex
Posted:30 June 2017
Another great trip with The Garden House, this time to Norfolk, Suffolk and Essex. First stop was in Suffolk at Wyken Vineyard and Restaurant. The gardens here lay around the lovely red-plastered house and unfolded lots of secrets. There was a relaxed atmosphere and we explored with the calls of peacocks and guinea fowl in the background. It was a hot, still day so the enclosed rose garden smelled gorgeous. The garden features were understated but intriguing; painted seats, unusual gates, and sculptures that we just sort of noticed rather than their being central to a display.
After lunch, we travelled on to our hotel just outside Norwich, which had a slightly neglected kitchen garden. Some people had rooms which let on to it, and some even did a spot of weeding!
The second day's visits began at East Ruston Old Vicarage Garden with a talk and tour of just some of what it has to offer from one of the owners, Alan Gray. It has a familiar garden story "originally developed from just a field" but now East Ruston spreads over many acres with a profusion of everything: plants, colour, different planting habitats, structures, theatre, walls, water, and even alpacas. You think you've come back to that greenhouse you saw earlier, but no, it's another one! Alan is clearly not afraid to change and move things that dont work or have outgrown their places, and is still full of new ideas and plans. Despite covering such a big area and being so ambitious, it has a family feel with pet cats and dogs roaming, sitting areas galore, and a very welcoming staff team who provided us with homemade cheesy biscuits (recipe included) and later a lovely lunch.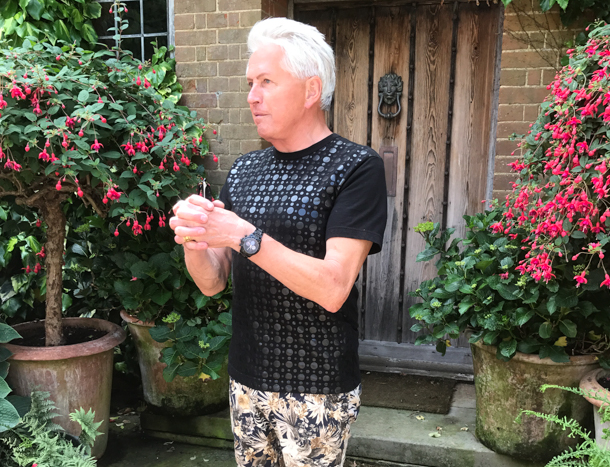 Alan Gray of East Rushton Old Vicarage
Next stop was Crete Lodge, a secluded private garden recently filmed for Gardener's World. On about an acre of sloping site and thin, well-drained soil, Melissa and Keith Scott have built a garden of contrast: shady jungle and arid gravel. Lots of surprise corners and mysterious paths, with walls and structures incorporating recycled materials creatively. And certainly plants that we didnt expect to find outdoors in Norfolk, from banana palms to giant cacti.
On our third day we visited Bressingham Gardens, built up by the famous Bloom family, for a tour with the head gardener, Jaime Blake. The island beds full of beautifully labelled mostly herbaceous species and cultivars proved very helpful, as we could photograph plant plus label for a full visual reminder. Sadly there wasnt enough time to see it all and we had just a quick glimpse of the second garden, Foggy Bottom, with its mature trees, dense planting, and more secluded feel. But there's never enough time to take in everything and ask all the questions we would like on any garden visit.
We met up with Garden House regular, Simon White, at Peter Beale's Roses, for another guided tour and a demonstration of rose pruning and care. The roses were at their romantic peak, with a Rose Festival taking place the day after we were there, and it was a great way to see, smell, and select them in full bloom. If thousands of roses on full power were a bit too much, there was also a new wildlife garden with roses growing in a much more natural setting. Loading up the coach afterwards with all our thorny purchases was quite a feat.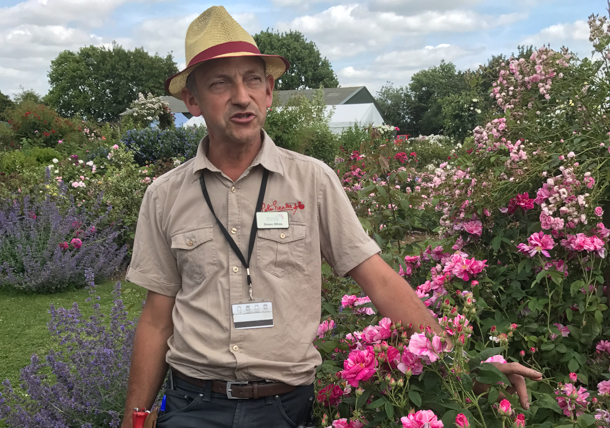 Simon White of Peter Beales Roses
The surprise garden turned out to be garden designer George Carter's home, Silverstone Farm, down winding narrow Norfolk lanes. The restrained greens and greys were a cool contrast after blowsy roses, and the only flower was Rosa 'Rambling Rector', which had been a hit at Peter Beales. Theatrical hedges and a variety of clipped evergreens and deciduous shrubs were an inspiration. We ended the evening with dinner in George's barn, converted to a banqueting hall, while nesting swallows zipped in and out of the open porch.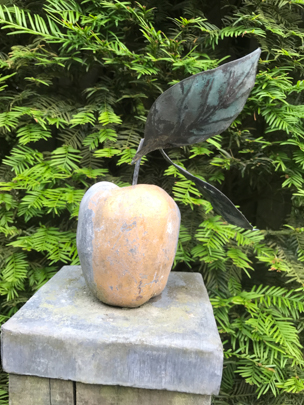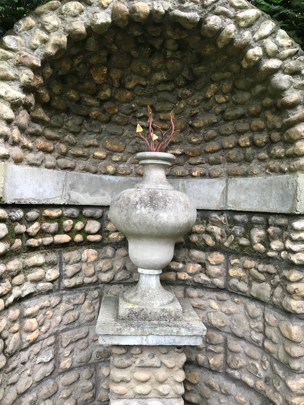 Silverstone Farm
Happily milling around in George Carters garden, Silverstone Farm
Last stop on the way home were The Beth Chatto Gardens in Essex, which was stunning despite the heat. A perfect time to see the gravel garden with its grasses and drought-lovers; then down into the lush water gardens and the shady areas, all planted in amazing variety. The orderly nursery was our last chance to fill up the coach and travelling home peering through leaves and flowers was like being in a mobile greenhouse.
Beth Chatto Gardens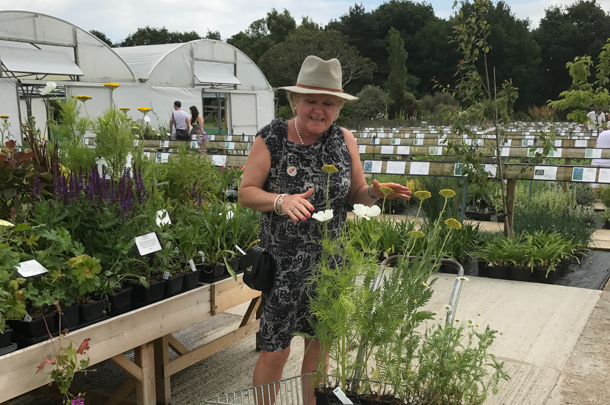 Katie goes mad in Beth Chatto Gardens nursery!
Our thanks to Bridge and Deborah for another well organised and inspiring trip; not forgetting Andy, our intrepid driver, who is getting used to our idiosyncrasies by now.   
Words by Garden House friend, Julia Widdows.
Main photo: East Ruston Old Vicarage Garden