Join our Dementia Friendly Gardening Group
Posted:23 July 2017
The Garden House has joined with Brighton & Hove Food Partnership to support their Dementia Friendly Gardening Group.
Brighton & Hove Food Partnership is a non-profit organisation that helps people learn to cook, to eat a healthy diet, to grow their own food and to waste less food.
Their projects are funded by the NHS Brighton and Hove Clinical Commissioning Group. All sessions are delivered by Food Partnership staff alongside trained volunteers. The sessions are suitable for those with mild to moderate dementia and carers are welcome to attend as well.
Read on to find out more, get details of how to book a space, or contact us with any questions.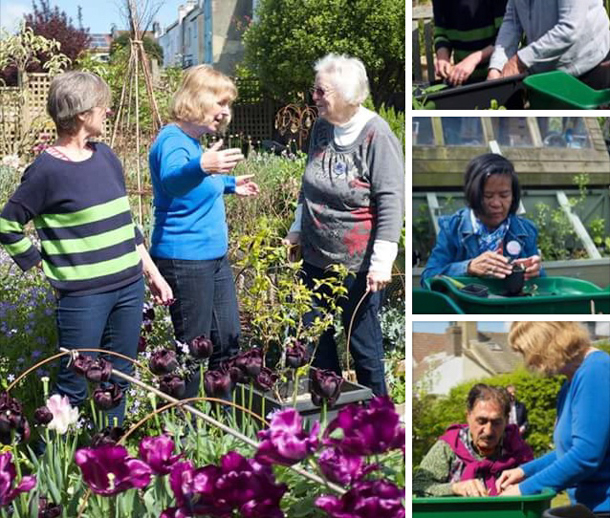 Gardening groups
Gardening is a wonderful activity to help improve wellbeing, get outdoors and take time to notice nature. Our weekly sessions provide a gentle, regular activity with a friendly group and a chance to build confidence. There is lots of national evidence about the benefits of gardening for people with dementia.
When: Weekly Tuesday sessions for up to 3 months. The next groups run from 18th July to 17th October including a morning group 10:30am-12pm and an afternoon group 2:30-4pm.
Where: The Garden House, 5 Warleigh Road, Brighton, BN1 4NT (between London & Ditchling Road), accessed via a side gate. The Garden House is a beautiful walled garden which sits behind the houses on Warleigh Road, it has a heated room in which you can sit and enjoy a cup of tea. There is also a toilet and hand washing facilities. Please note the garden is a no-smoking zone.
Who are the activities suitable for?
People with a mild (and in some cases moderate) dementia diagnosis
We can only accept applications for gardening from people who have a good level of mobility (are able to walk unaided) due to the uneven nature of the ground and trip hazards.
Those who can attend regular weekly sessions.
Activities are adaptable to suit a wide range of abilities, and some participants may not need a carer present. Others may require additional support from their carer, please speak to us to find out more.
We welcome people with a passion for gardening or cookery but participants do not need to have any previous experience to enjoy the activities.
What previous participants and carers have said:
"I noticed an improvement since the beginning – she is more outgoing with other people and now initiates conversations She is really happy there she loves it It has really helped her with socialising." (carer, gardening)
"I think it has been wonderful for me and we have made some good friends. Everyone has really gelled together and supported one another – we've had some great chats Just being in the garden is wonderful." (participant, gardening)
How much? Totally free. You just need to provide your own transport to get to the venue.
Booking a space: If you'd like to find out a bit more before applying please contact Sarah Davenport on mailto:sarah@bhfood.org.uk or call 01273 431700. Feel free to contact Sarah with any questions or to book a place over the phone.