Kate Osborne: Garden House Artist in Residence
Posted:19 September 2023
We are delighted to welcome Brighton-based artist Kate Osborne to regularly visit the Garden house as our 'artist in residence' capturing the garden in watercolour as it changes through the seasons.  Kate says: "Can't believe this beautiful oasis is just around the corner from my own tiny patch, bang in the heart of Brighton".
A very exciting project for us, and one that I'm sure we'll be telling you more about as Kate's work develops.  Follow Kate on: www.kateosborneart.com / Instagram @watercolourdiaries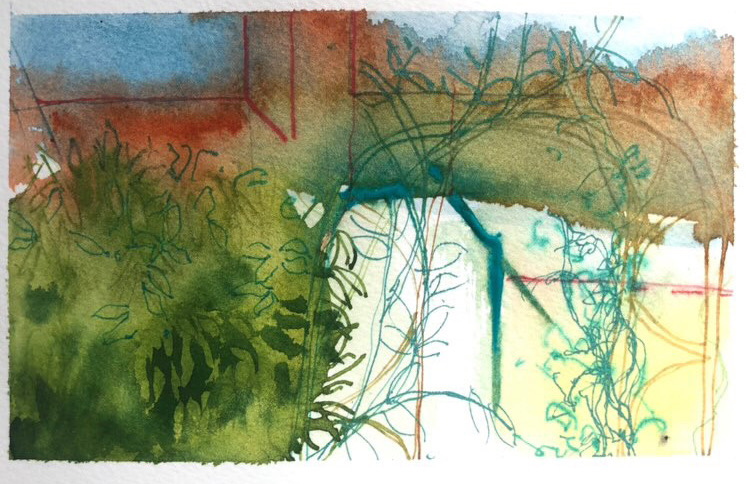 To give you some background: Kate started her painting career by studying textile design at Northbrook College in Worthing, then worked for two London textile studios as a floral designer. In 1979 she went to live in Los Angeles doing production ready artwork for various manufacturers.
Los Angeles was followed by an inspirational year in New Mexico, living in a shack in an old coal mining town, painting wildlife and botanical subjects, and selling through a gallery in Santa Fe.
Returning home in 1984, Kate began doing illustration for books, magazines and advertising, as well as textile design.  More recently she returned to painting  and has been exhibiting in during Brighton's Arts Festival; with Nick Bowlby at the 20/21 art fair and the Affordable Art Fair in Battersea and Hampstead, the Spa Galleries in Tunbridge Wells the Royal Institute of Painters in Watercolour and the Society of Wildlife Artists at the Mall Galleries London, as well as selling prints and originals through many galleries around Britain.
Kate recently joined Yellowhouseartlicensing, who specialise in licensing for fine-art publishing, greeting cards, gift-wrap, stationery, retail packaging, apparel, homeware, wallpaper & more.