Royal Wedding Flowers and Trees
Posted by editor on Friday, 29 April 2011
Love it or loathe it, endure it or enjoy it – today's wedding was a great opportunity to again admire the beauty of our seasonal native trees and flowers.
London-based floral designer Shane Connolly masterminded the floral arrangements, leading teams of florists in decorating Westminster Abbey and of course, designing the bride's bouquet.  Connolly is known for his "sustainable approach to floristry," and often uses live growing plants and trees in his designs.
The overall impression was of natural elegance, simplicity and seasonality – white and cream, scented and full of meaning.
At Westminster Abbey the nave was lined with an 'avenue' of eight 20ft-high trees, six English Field Maples and two Hornbeams, all growing in planters made by craftsmen at Highgrove, the Prince of Wales's house in Gloucestershire.
Among the seasonal cut stems decorating the abbey were azaleas, rhododendron, euphorbias, Solomon's seal, wisteria and lilac – all grown in Britain.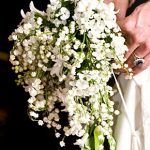 Kate's bouquet was white, scented and simple. It was a shield-shaped wired bouquet comprising myrtle (signifying love and taken from an original myrtle planted at Osborne in 1845, which still thrives within its sheltered terraced gardens today), lily-of-the-valley (humility, purity), sweet William (gallantry) and white hyacinth (loveliness). The majority of the flowers came from Windsor Great Park's Valley Gardens, a flowering forest in Surrey.
The flowers and plants will remain in the abbey for public viewing until 6 May, when the trees will be taken to Highgrove Gardens for planting.  Most of the cut flowers and greenery and growing plants will be given to charities or replanted.
Tags: spring time, We love...
This entry was posted on Friday, April 29th, 2011 at 10:42 pm and is filed under
Lost the plot
. You can follow any responses to this entry through the
RSS 2.0
feed. Both comments and pings are currently closed.