Polygala myrtifolia Grandiflora
Posted:28 October 2009
Just today I spotted this attractive plant in full bloom outside the RHS gardens at Wisley. Were always on the lookout for plants that work for late-summer colour, and this plant with its mass of bright purple pea-like flowers carried all along the lax arching branches, looked absolutely beautiful even in late October.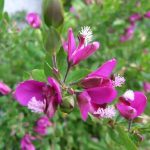 Polygala myrtifolia Grandiflora is a South African plant, typically suited to well drained, dry, poor to moderately fertile soil. This very useful small evergreen shrub is suitable for a sunny site in mild areas of the country (and seaside locations), or can be grown indoors in a pot in a coolish greenhouse or conservatory. When growing outside it flowers July, August and September/October – hence it is commonly called the 'September bush'.
It is easily propagated from seed and tip cuttings preferably taken in spring and autumn.