The Garden's Looking Glorious!
Posted:16 April 2017
Come and visit The Garden House – we are opening for the NGS (National Garden Scheme) on Saturday 29th and Sunday 30th April.   Its a wonderful time of year to visit our garden, the tulips are looking glorious and there are so many late spring flowering plants well underway. Come and see for yourselves what flowers, vegetables and fruit were growing and see the progress that we have made in the garden over the past year. Plus the newly restored and replanted pond is look fabulous!
All over the country, almost 4,000 gardens will be opening under the NGS Yellow Book scheme raising money for a number of nursing and caring charities.
We will have plants, seeds and homemade treats for sale. Plus, as always, an excellent range of delicious homemade cakes and refreshments!
Open: Saturday 29 & Sunday 30 April – 11am to 4pm – entrance £3.50 (children free) – come with a friend!
Location: The Garden House, 5 Warleigh Road, Brighton BN1 4NT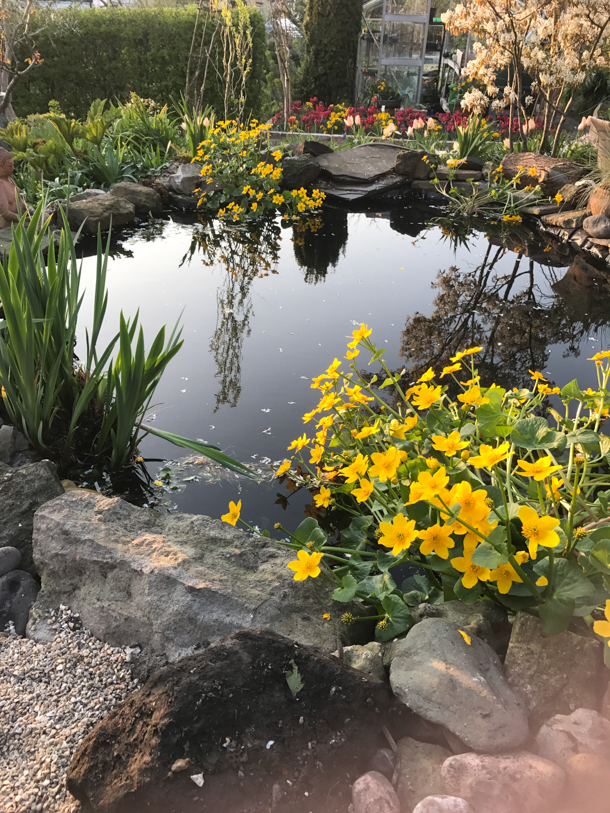 Were so pleased with our newly restored pond!
Another Garden House outing to consider is our day trip and picnic on 8th June, visiting Hardy's Cottage Garden Plant Nursery and Bere Mill Farm garden.
Having had Rosy Hardy come here to the Garden House several times and give brilliant talks about plants we are delighted to at last be visiting her fabulous nursery.  Hardy's Cottage Garden Plants is a small family run independent nursery based in Hampshire, www.hardys-plants.co.uk, and they grow a wide range of home produced herbaceous perennials.  Do have a look at their website for the fabulous array of unusual cultivars of well-loved plants.
We are also visiting Bere Mill Farm (www.beremillfarm.com), an eighteenth century water mill, which is close to Rosys nursery and recommended by her as a wonderful garden to see.
Cost: £68 to include coach travel and lunch.  BOOK ONLINE NOW. If you are unable to pay online, please contact us to find out about alternative ways of paying.
Location: Leaving 9am from The Garden House, 5 Warleigh Road, Brighton BN1 4NT