The Magic of Mushrooms
Posted:7 October 2013
Foraging fanatic Geoff Dann spends his autumns accompanying small, self-assembled groups (families, groups of friends, couples) on walks in search of fungi, usually on public access land.   He also gives talks, and last Saturday Geoff was at The Garden House talking about mushrooms.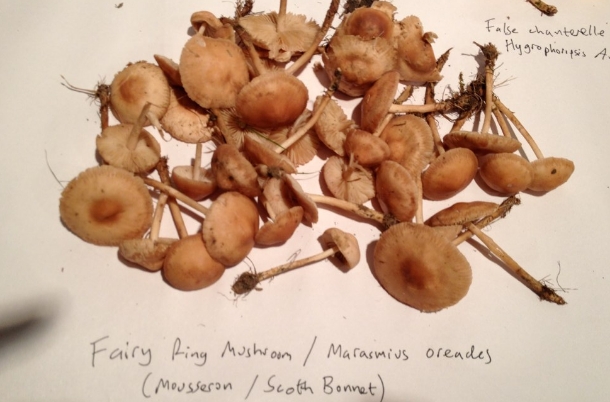 Who knew there were so many and who knew they could be so fascinating?!  Apparently there are 3,000 plus species of fungi in the UK alone.  Geoff had brought with him the most extraordinary selection of mushrooms and a few funghi, all picked in a three-hour session around his home-base Hastings.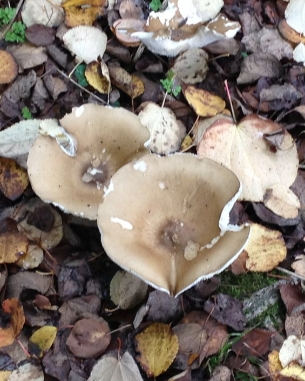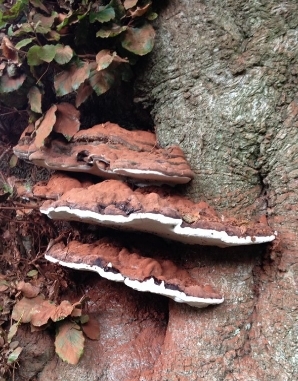 Defined by the weather, generally the mushroom 'season' runs mid-September to mid-November. Geoff talked us through the legality of foraging, the importance of sustainability (leaving some behind!), responsibility with regard to where and how you forage – and of course, most important, which are edible, which simply don't taste nice – and, which are deadly there is no antidote to the fairly common Deathcap and the almost as deadly Destroying Angel (though apparently these are not poisonous to deer or rabbits, though they can be to dogs).
The distinguishing features of fungi are numerous  smell being very important, to location (certain fungi grow symbiotically with certain trees), the areas soil type, the way in which certain fungi colour up when cut, whether they have gills or pores (from which the spores escape), the spore print (when cut in half and placed on paper, how the spores colour and spread) and so much more.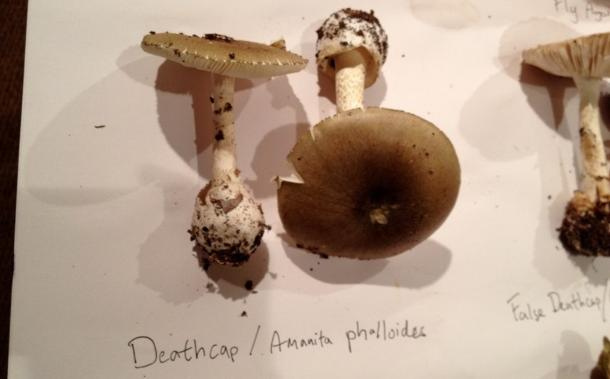 The evening was made all the more enjoyable as Bridge and Deborah regularly disappeared into the kitchen to pan-fry in butter various mushrooms, really delicious.  Our supper, generously included in the talk, was a simple salad served with a delicious Mushroom Bread (taken from a delightful old cookery book, recipe below), and yet more of Geoff's sample mushrooms.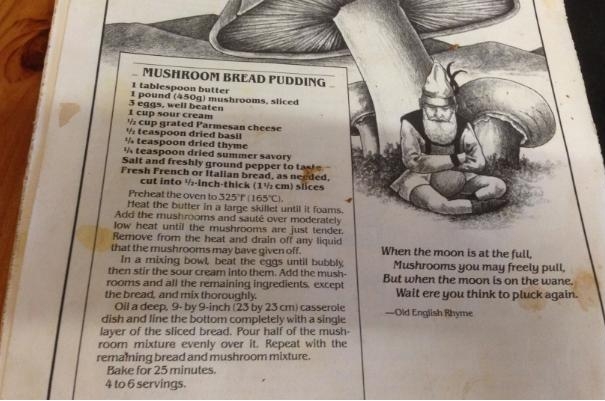 Geoff is also very knowledgeable about wild plants – and roadkill!  Not for the vegetarians among you, he says: "I got into eating roadkill without really thinking about it. It was a December 23rd back in about 2002, and I had a few guests coming for Christmas Dinner. I had been planning on popping into the local supermarket on Christmas eve and buying whatever they had left over and going cheap (foraging, sort of…), but on my way to work over the downs from Brighton to Burgess Hill I passed a dead deer. I had to do quite a big circle to get back on to the slip road where I'd originally passed it at 60mph. It was a roe doe, and still warm, which was a big help when it comes deciding how long it had been there. Suffice to say that although I did not poison any of my guests, this first one was very much a learning experience."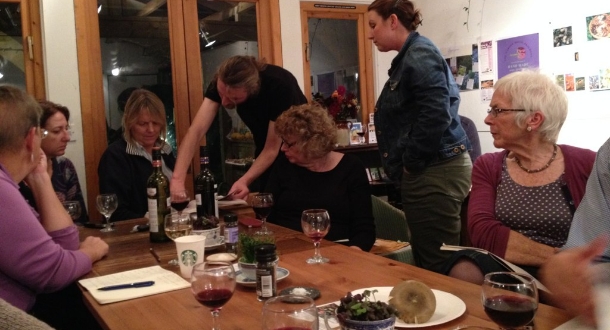 Geoff also collaborates with landowners to offer longer foraging courses for larger groups and is available for foraging and fungi/plant ID sessions at all times of the year.  To check out Geoff's excellent blog and website CLICK HERE.