Archive for

October, 2009

Posted by editor on Tuesday, 20 October 2009
Allotments are not only functional places to grow vegetables, they are also peaceful havens in which you can relax, meet friends and exchange produce and tips.
Bridgette Saunders is an experienced horticulturalist, planstwoman and lecturer. She runs courses on allotment gardening from her home in Brighton and teaches at City College, Brighton and Hove, where she enjoys inspiring her students to grow a variety of plants, both edible and ornamental.
Bridgette's book Allotment Gardening, published this month, deals with all aspects of the allotment 'experience'.  How to plan and design your allotment, whatever its size and aspect; considering the soil quality; what fruit, vegetables and flowers to plant; how to tackle pests, diseases and predators; and most importantly, what to do when – the seasonal calendar.
The history of allotments is also covered: the 'Dig for Victory' campaign during the war years, the subsequent decline of allotment-keeping in the 1960s and 70s, and the extraordinary rise in popularity in recent years.
Allotment Gardening is beautifully illustrated with photographs taken by Rhoda Nottridge.
ISBN: 9781847970220
Published: 22 October 2009
Publisher: The Crowood Press Ltd
Posted by editor on Monday, 5 October 2009
Last month The Garden House invited rose expert Simon White to give a talk on roses – and, having worked at the renowned Peter Beales Roses nursery for almost twenty-five years, Simon certainly knows a thing or two!
He's a great character, amusing us all with anecdotes from the nursery, and scarey tales of setting up the beautiful – and mammoth! – Peter Beales stand at The Chelsea Flower show! Simon took us on a fascinating visual journey through the A-Z of roses, their history and types; how to propagate roses, how to plant to avoid disease, and how to prune climbers and ramblers.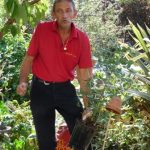 He also had some good tips on how to grow roses in pots and containers. Most roses cope well with shade and are happy enough in pots– so great news for those of us with smaller shady gardens!
- Pots should be minimum 20" diameter, filled with John Innes no3 (NOT multi-purpose compost, as once dried out this never gets properly wet again). After planting cover the top surface with horticultural grit.
- If planting a larger shrub rose or climber/rambler, create a robust obelisk or tripod out of bamboo, willow or hazel (Simon told us that, amazingly, even ramblers can be happy in a large pot!)
- Water every day April to October, and feed with Tomorite fortnightly (or weekly at half-strength).
- Bare-root roses can be planted anytime from Nov-Jan. The soil-level should be above the root-stock union, and the rose should be pruned hard in Feb (3-5" from the ground!).
- Container-grown roses should be planted in June – if you buy your rose before June, simply plant in position WITH the plastic pot, then plant properly into the soil in June.
- As the plant grows tie stems loosely around the obelisk, spiralling the branches gently in both directions.
- Every year in Dec/Jan, scrape out any loose exposed soil and replace with fresh John Innes no3. In the third year, again in Dec/Jan, re-pot completely (not necessarily in a larger pot, the aim is simply to refresh the rose with new soil).
- Organic care: grow chives as companion planting, and spray with 50/50 skimmed milk and water once a fortnight to protect against mildew, and an occasional spray with diluted washing-up liquid to keep greenfly at bay.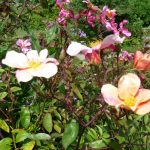 Finally a great tip for planting a new rose into soil where roses have grown before – use a cardboard box! Dig a hole large enough for the box (a good sized box large enough to take the roots without cramping), position box in the hole, position plant in box, and fill with a mix of John Innes no3, some well-rotted manure and a small handful of bonemeal (and Simon recommends a sachet of Root Grow) – then water well!
A highly informative hands-on day – we all went home with boundless confidence, armed with some good advice and a long list of 'must-have' roses!